Publications
Tea and the Arts of Sixteenth-Century Japan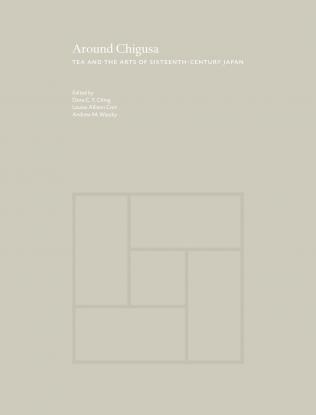 Published in 2017 by P.Y. and Kinmay W. Tang Center for East Asian Art, Princeton University, in association with Princeton University Press
Hardcover | ISBN 9780691177557
284 pp. | 10.6 × 8 | 84 color illus.
Around Chigusa investigates the cultural and artistic milieu in which a humble jar of Chinese origin dating to the thirteenth or fourteenth century became Chigusa, a revered, named object in the practice of formalized tea presentation (chanoyu) in sixteenth-century Japan. This tea-leaf storage jar lies at the nexus of interlocking personal networks, cultural values, and aesthetic idioms in the practice and appreciation of tea, poetry, painting, calligraphy, and Noh theater during this formative period of tea culture. The book's essays set tea in dialogue with other cultural practices, revealing larger cultural paradigms that informed the production, circulation, and reception of the artifacts used and displayed in tea. Key themes include the centrality of tea to the social life of and interaction among warriors, merchants, and the courtly elite; the multifaceted relationship between things wa (Japanese) and kan (Chinese) and between tea and poetry; the rise of new formats for display of the visual and calligraphic arts; and collecting and display as an expression of political power.