Publications
Image and Illusion in Two Chinese Films by Director Jiang Wen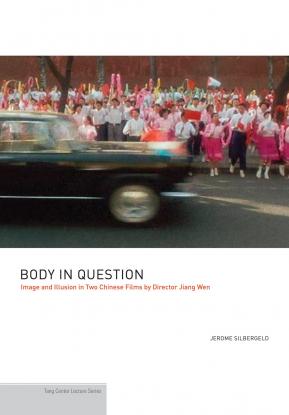 Published in 2008 by P. Y. and Kinmay W. Tang Center for East Asian Art, in association with Princeton University Press
Paperback | ISBN 9780691139463
176 pp. | 10 × 7 | 51 color illus. and 54 halftones
In the Heat of the Sun and Devils on the Doorstep are two of the finest and most honored Chinese films ever made. Body in Question is the first book to examine these groundbreaking works in depth and one of the first books in English to study individual Chinese films in depth.
These two award-winning films by renowned director-actor Jiang Wen and cinematographer Gu Changwei are unsurpassed in China for their exquisite attention to realistic detail, their stylistic range, their emotional breadth, and their razor-like commentary on contemporary China. In scenes that range from hilarious to horrific, China's ruling elite and its complicated relationship with Japan are subjected to the filmmakers' ironic treatment and profound concern with social justice. In the Heat of the Sun has become unavailable, and Devils on the Doorstep has been suppressed by the Chinese government.
Jerome Silbergeld gives these two important films careful and extended study in Body in Question. He uses cinema and photography, political history, anthropology and philosophy, Chinese rhetorical traditions, and concepts of justice to explore the films' visual complexity and intellectual force, providing a unique look at the artistry and pressing concerns of Chinese cinema today. An accompanying DVD includes major clips from both films.
About the author
Jerome Silbergeld is the P. Y. and Kinmay W. Tang Professor of Chinese Art History at Princeton University. His books include China into Film: Frames of Reference in Contemporary Chinese Cinema and Hitchcock with a Chinese Face: Cinematic Doubles, Oedipal Triangles, and China's Moral Voice.