Publications
Hōzan Tankai and Japanese Buddhist Art of the Early Modern Era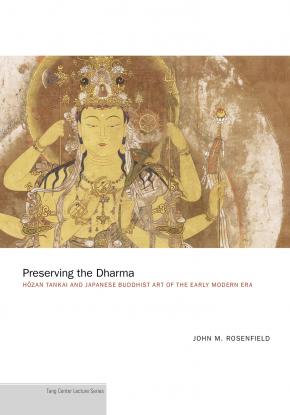 Published in 2015 by P.Y. and Kinmay W. Tang Center for East Asian Art, Princeton University, in association with Princeton University Press
Paperback | ISBN 9780691163970
200 pp. | 10 × 7 | 84 color illus. and 12 halftones
In this beautifully illustrated book, eminent art historian John Rosenfield explores the life and art of the Japanese Buddhist monk Hōzan Tankai (1629–1716). Through a close examination of sculptures, paintings, ritual implements, and primary documents, the book demonstrates how the Shingon prelate's artistic activities were central to his important place in the world of late-seventeenth-century Japanese Buddhism. At the same time, the book shows the richness of early modern Japanese Buddhist art, which has often been neglected and undervalued.
Tankai was firmly committed to the spiritual disciplines of mountain Buddhism—seclusion, severe asceticism, meditation, and ritual. But in the 1680s, after being appointed head of a small, run-down temple on the slopes of Mount Ikoma, near Nara, he revealed that he was also a gifted artist and administrator. He embarked on an ambitious campaign of constructing temple halls and commissioning icons, and the Ikoma temple, soon renamed Hōzanji, became a vibrant center of popular Buddhism, as it remains today. He was a remarkably productive artist, and by the end of his life more than 150 works were associated with him.
A major reconsideration of a key artistic and religious figure,  Preserving the Dharma brings much-needed attention to an overlooked period of Japanese Buddhist art.
About the author
John M. Rosenfield (1924–2013) was the Abby Aldrich Rockefeller Professor Emeritus of East Asian Art at Harvard University and curator emeritus of Asian art at the Harvard University Art Museums. His recent publications include Portraits of Chōgen: The Transformation of Buddhist Art in Early Medieval Japan and extensive entries in Unrivalled Splendor: The Kimiko and John Powers Collection of Japanese Art.