Publications
Commemorative Landscape Painting in China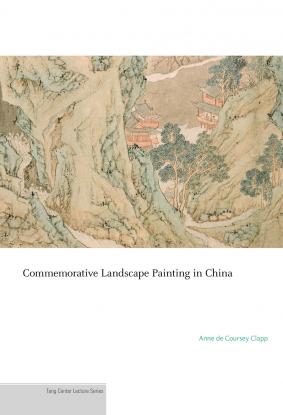 Published in 2012 by P.Y. and Kinmay W. Tang Center for East Asian Art, Princeton University, in association with Princeton University Press
Paperback | ISBN 9780691154763
136 pp. | 10 × 7 | 51 color illus. and 35 halftones
When is a landscape more than a landscape? This is a richly illustrated study of an important genre of Ming-dynasty Chinese painting in which landscapes are actually disguised portraits that celebrate an individual and his achievements,ambitions, and tastes in an open effort to win recognition, support, and social status. In this unique study, Anne de Coursey Clapp presents a broad view of these commemorative landscape paintings, including antecedents in the Song and Yuan dynasties.
This book traces how in commemorative landscape painting members of the literati address their peers in a deeply familiar language of values, just as they had for centuries through literary biography. Although the setting for such pictures is always natural landscape, it is secondary to the man, and its true function is to mirror him as the humanistic ideal of the recluse-scholar. This book shows how the literary associations attached to the new landscape increased during the Yuan dynasty (1271–1368), when the first commemorative paintings appeared,and flourished through the Ming (1368–1644), producing an art form that was simultaneously pictorial and verbal. In the course of exploring the sources and meaning of these paintings, the book examines several varieties of dedicatory paintings, including departure paintings and the interesting subgenre of "biehao," in which portrait subjects are symbolized through pictorial representations of their literary names.
About the author
Anne de Coursey Clapp is professor emerita of Wellesley College, where she taught East and Southeast Asian art history in the Art Department for more than three decades, retiring in 1999. She is the author of monographs on the Ming dynasty artists Wen Zhengming and Tang Yin.